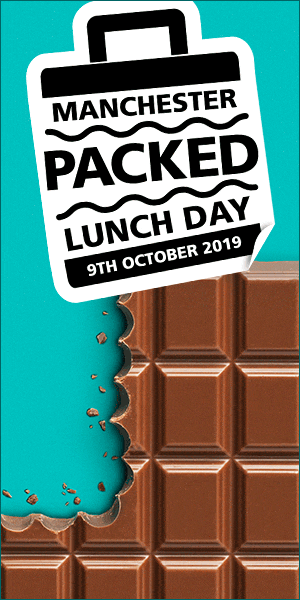 Manchester Packed Lunch Day 2019
Did you know that just £3.00 (the cost of a meal deal) will help Fareshare feed 12 people living in poverty in Greater Manchester?
That's why we're introducing Manchester Packed Lunch Day. On the 9th October, we will be packing our lunches and ditching the meal deals. We want you to join us and play a pivotal role in providing support for those that need it most. We often underestimate just how valuable a lunch time meal can be but there are thousands of people across Greater Manchester that do not have access to regular meals at all. Together, we can change this. Text "MEAL" to 70460 to donate.
The text to donate is currently available, so feel free to donate before the big day to help as many people as possible! Your donation will bring a much-needed meal to someone living right here in the Greater Manchester area. It's not just those in the centre of the city that benefit, we supply over 230 charities, schools and community groups across all the boroughs of Greater Manchester, from Wigan to Stockport.
What can you do to support the cause?
1. On the 9th October instead of buying your lunch, switch to a packed lunch.
2. Take a photograph of your packed lunch, and post it to Instagram (@faresharegm) and Twitter (@FareShareGtrM) tagging in Fareshare GM, be sure to use #mcrpackedlunchday and #packedlunchhelpsabunch in your post!
3. To donate what you would usually spend on a Meal Deal, £3.00, simply text 'MEAL' to 70460 to donate £3. This costs £3 plus a std rate msg. Alternatively, you can opt to give any whole amount up to £20, for example, "MEAL 20" will donate £20.
4. Tell your friends about the day, and encourage them to do the same, sharing the text call to action on Twitter
How does your donation help?
Over 620,000 people in Greater Manchester are living in poverty, including 180,000 children and young people. For the price of one meal deal you can help feed 12 people living in poverty across the county. 10,000 donations at the cost of a meal deal, would mean that we can feed 120,000 people that struggle to get access to food on a daily basis. We can't do this alone however, we need your help to make this a reality. FareShare GM is run by the independent environmental charity EMERGE and relies on donations and grants, and therefore receive no regular statutory funding , so your support is vital.
To find out more about our Packed Lunch Campaign and to get involved please contact Miranda Kaunang (Head of Development) on 01612238200 (option 4) or email miranda@emergemanchester.co.uk
Download and share our promotional posters below!
FareShare Poster –  Chocolate
FareShare Poster – Melon
FareShare Poster – Sandwich