Great news! The Amazon Smile giving facility has now been added to the Amazon mobile app! Now you can support FareShare GM's work when you shop on your phone or tablet. Because Amazon will donate a percentage of what you have paid for selected goods to us on every eligible item you purchase.


How to choose us and support FareShare
First make sure you have the newest version of the Amazon mobile app on your device – (you can check this in your app store, such as Google Play, by searching for the app, and when you find it, you will be told whether an update is available).
Open the Amazon mobile app on your device and select the three horizontal bars at the top left hand of your screen.
Scroll down the list of options to SETTINGS and click on this to open a secondary list. From this list, select 'Amazon Smile.'
If you have already chosen FareShare Greater Manchester as your charity for when you are online shopping on your desktop computer, 'EMERGE 3Rs' (the name of our parent charity) will pop up on your screen in the app. Click on the 'Turn On Amazon Smile' button underneath 'EMERGE 3Rs.'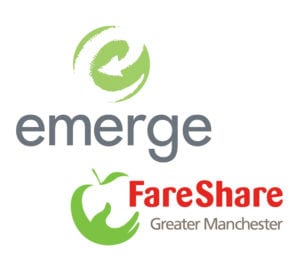 If you haven't already chosen us as your beneficiary when shopping online, search for us under the name 'EMERGE 3Rs.'
If you have previously chosen a different charity, but would like to switch to us, click on the 'Change Charity' option under the name of your existing charity and then search for us under the name 'EMERGE 3Rs' and then click the 'Turn on Amazon Smile' button and follow the rest of the instructions.
You can also support us by using the desktop version of Amazon by going to the Amazon Smile webpage, choosing us, and then shopping as usual.
From now on every time you shop with Amazon Smile you will be helping us help people in need whilst tackling waste and environmental pollution.
Thank you in advance!