Marcus Rashford MBE visits us on 22 October 2020 with his mother Melanie. They have interest in our response to soaring demand this Christmas with our new warehouse. FareShare GM will name the warehouse after Melanie Rashford.
The England International's visit came just after the Government's rejection of calls to continue the free school meals voucher scheme. These ensure the UK's most vulnerable children can access food when school is out.
Marcus – whose family relied on free school meals growing up – first partnered with FareShare in March. All in order to support the charity's work helping to feed children and families in need across the UK. Marcus' support arrives at a critical time, with:
the need for FareShare's service doubling and;
our providing over 40 million meals to at-risk children and families of hunger since the introduction of lockdown measures.
Rashford visits FareShare amidst commitment to tackling hunger
His tireless campaigning also forges the Child Food Poverty Taskforce. This features a group of leading organisations, including FareShare, which aims to tackle the issue.
Thanks to Marcus Rashford's support, FareShare Greater Manchester takes on additional warehouse space to respond to the crisis. We will rename the new unit Melanie Maynard House after Marcus's mother, Melanie Rashford. Marcus praises her frequently for her tireless work to provide for him and his siblings as a single mother. The unit enables us to more than treble the amount of food we can distribute each week.
However, the warehouse space is in need of major refurbishment, which is why we have launched a £500,000 fundraising appeal – calling for financial donations to fund this vital work as we brace for demand to increase further, as thousands of vulnerable families in the region experience their toughest winter yet.
Take part
Marcus and Melanie toured the new and existing warehouses to meet the Greater Manchester team of staff and volunteers. The team is working tirelessly through the pandemic to get food onto the plates of people who need it most. In Greater Manchester alone, FareShare is now distributing over 80 tonnes of food each week. In essence, that's equivalent to over 200,000 meals, especially to vulnerable children, families and individuals.
The real superstars in this country can be found in the heart of most cities, towns and villages. (People) working tirelessly to support our most vulnerable across the UK. As FareShare and other food-related charities approach one of the toughest winters on record, with demand higher than ever before, it is important to connect and offer my support wherever we need it.

When we stumble, there will always be a community to wrap their arms around us and pick us back up.

For many of us, that is FareShare or the local food bank. Food banks who are staffed with selfless volunteers, dedicating their lives to protecting those most vulnerable – those who, in many cases, have fallen into unforeseen circumstances due to illness, personal loss and unemployment. It should be noted that a lot of these volunteers have themselves suffered unemployment as a result of the pandemic, yet they still strive to help others less fortunate. That to me is the greatest example of what we can do, and the difference we can make, when we just work together.
Marcus Rashford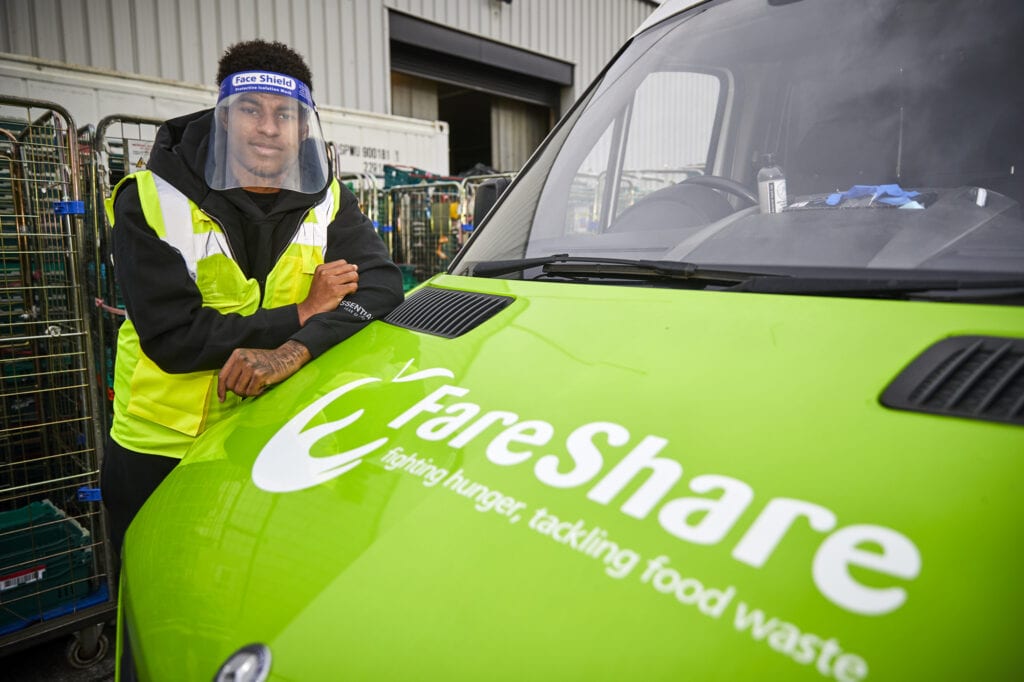 Grateful to Marcus and Melanie Rashford
We are so grateful to Marcus and Melanie for taking the time to visit our warehouse and meet our team of dedicated staff and volunteers. The Covid-19 crisis has presented a challenge like nothing we have ever experienced and we continue to work tirelessly to get food to the children, families and individuals who need it most. It was an honour to host Marcus and Melanie and we are proud to name our new warehouse Melanie Maynard House in recognition of Melanie and all other parents doing their best across the UK to provide for their children during this difficult time and all year round.
Lucy Danger, CEO of FareShare Greater Manchester
More about FareShare
FareShare has been actively working to alleviate child hunger and food insecurity for more than 25 years. Additionally, last summer we supplied more than 700 holiday projects feeding children and families through its ActiveAte campaign – an increase of 75% on the year before.
FareShare welcomes the spotlight that Marcus Rashford's tireless campaigning has shone on child hunger and are so grateful for his support of our work during this challenging time. The naming of this warehouse is in recognition of Melanie Maynard and in fact, of all Mums in the UK, supporting their children. We are disappointed with the outcome of the vote, which would have been the first step on the road to providing some peace of mind to the millions of struggling UK families. FareShare continues to provide over 2 million meals each week to vulnerable communities across the UK and we stand ready to provide all the food we can obtain, so we can continue supporting those families and children that seek help to access good, healthy food.
Lindsay Boswell, CEO of FareShare UK
Donate here to our fundraising appeal, which will help to triple the amount of food we distribute to children and families.