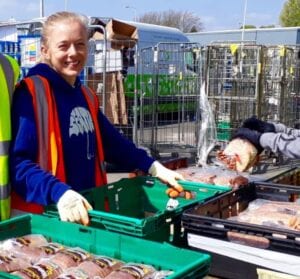 At FareShare GM, we take impactful steps to combat hunger by collaborating with local charities and community groups across Greater Manchester. Our core mission is to create positive transformations in the lives of vulnerable individuals and families. Emphasising the provision of wholesome food choices, we contribute significantly to food banks and pantries. We ensure the delivery of nutritious meals to those in dire need. Our dedicated food volunteers in Manchester play a pivotal role in our endeavours. Through active involvement in collection drives and engagement with young people, they nurture a sense of community responsibility.
At the heart of our efforts is a partnership with EMERGE, the visionary organisation that established FareShare Greater Manchester. With a shared dedication to fighting hunger, EMERGE has played a pivotal role in shaping our mission. Together, we have built a network that extends across Greater Manchester, engaging local charities, community groups, and passionate volunteers.
Nurturing Sustainable Change: Our Impact on the Community
Your participation can make a profound difference too. By contributing to our cause and donating food to charity, you actively become part of our vital mission. Your food donations empower us to fortify our initiatives in delivering sustenance to those who are most susceptible. From nourishing meals to essential supplies, your generosity directly elevates the quality of life for members of our community.
We wholeheartedly acknowledge the importance of collaborative efforts. This has led us to foster partnerships with various local organisations. Through initiatives like volunteer collection drives and collaborations with young people, we cultivate a sense of unity and empowerment. Our ambition extends beyond being a mere food distribution charity; it encompasses the creation of a robust support network that uplifts the entire community.
In our collective journey, we address not only immediate hunger but also actively pursue sustainable solutions. We are more than just another food pantry. Functioning as catalysts for change, we empower local charities, promote healthy eating habits, and nurture a spirit of generosity. Join us today in our mission to donate food to charity and generate a lasting, positive impact on the lives of Greater Manchester residents.