Since lockdown, we're welcoming an influx of new volunteers willing to go the extra mile. Sometimes literally even, to help deliver food to our frontline charity members. Today, we're celebrating our furlough volunteers.
Over the last 10 weeks, over 8 million people from all walks of life have found themselves in furlough by their employer. Moreover, research suggests that nearly a quarter have been dedicating some of their free time to volunteering for charity.
James Ward
Here at FareShare Greater Manchester, we've welcomed a host of fantastic 'furloughers' to our volunteering family. For example, James Ward, who joins as a warehouse assistant in April:
"When I was furloughed, I registered to help at FareShare. I enjoy it – it's knowing that I'm being helpful, and I'm fitter too! When customers come to collect, they're always very grateful and say 'keep up the good work'. It makes me feel part of the effort."
Alice Murfitt
One of our new volunteers has even gone the extra mile – 91 in fact – to support us. Alice Murfitt, who joined in March, has recently finished running a mind-boggling seven half marathons in seven days to raise money for FareShare GM and Rainbows Children's Hospice in the East Midlands.
"This is the first time I've volunteered for FareShare," she said. "I'm so proud to know that I'm playing a key part in helping to tackle food poverty in and around Greater Manchester.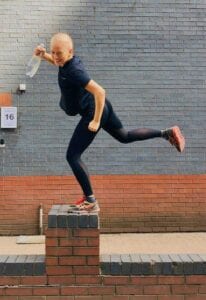 "The 7 half marathons in 7 days challenge was the first individual fundraising effort I've ever undertaken. I've always been a keen runner. It felt like the perfect time in my life to be able to do my part and give something back to two charities very close to my heart. 

If anyone reading this is new to FareShare, or would like to get involved and volunteer too, I couldn't recommend it enough. They have been one the most friendly and welcoming organisations I've ever been part of."
Alice has so far raised an amazing £4,400 and you can still donate to her fundraiser until August. What an incredible achievement!
To celebrate #VolunteersWeek2020, we'll be sharing stories of our amazing volunteers every day this week.